New
Safely and healthy with ecological transport
10. 13. 2021

Mobilita
Today marks the start of the 20th edition of the European Mobility Week (ETM) campaign, which this year is marked by the motto "Safely and healthy with green transport". Sustainable mobility is a key solution to the problem of deteriorating air quality. The aim of the campaign is to motivate local governments and to present implemented permanent measures in the field of sustainable mobility.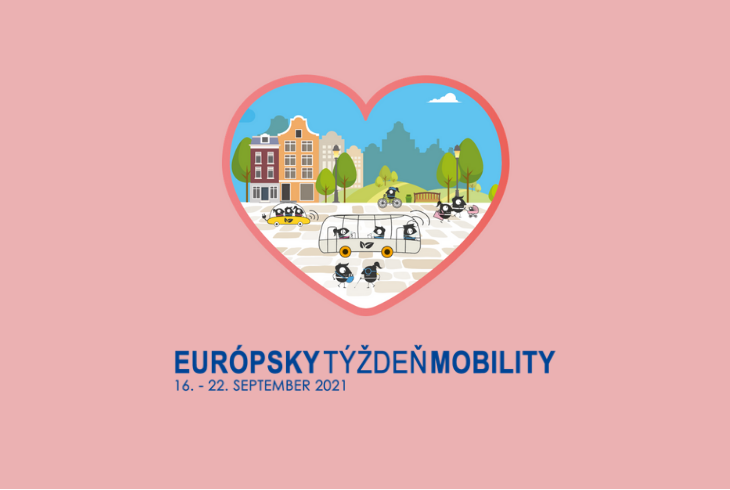 Source: ETM
European Mobility Week takes place every year from 16 to 22 September, concludes with Car Free Day and aims to show residents of towns and villages the alternative modes of transport. The announcer of the campaign is the Ministry of Environment of the Slovak Republic, the national coordinator of the campaign is the Slovak Environment Agency (SAŽP).
The jubilee twentieth year of the European Mobility Week brings local governments the opportunity to present the implemented permanent measures in favor of sustainable mobility, but also to organize, together with partners, interesting events in the field of education and information.
The choice of this year's campaign theme draws attention to the challenges facing Europe and the world during the COVID-19 pandemic. At the same time, it is a space to reflect on the opportunities for change resulting from this serious health crisis in Europe. "This year, the campaign focuses on four areas: mental and physical health, safety and response to COVID-19. The emerging trends, such as increasing active mobility and the use of transport with low or zero emissions, require further support, "said Michal Maco, General Director of SAŽP, at a press conference in June.
Registered cities and municipalities can compete for victory in the national competition for the ETM 2021 prize and for interesting sustainable prizes in two categories: Active self-government and Effective permanent action. Active organizations in a separate category for them can also compete for the prize in the national ETM competition.
Information on the participating towns and villages in Slovakia and their activities can be found at: https://mobilityweek.eu/2021-participants/?year=2021&country=SK
European Mobility Week has involved thousands of institutions, businesses, NGOs and cities in the campaign for 20 years to help improve the urban environment.
 
Share: